700 University Avenue Stubbs Hall 120G
University of Louisiana Campus
Saturday
7:00 a.m. - Until (Event Day)
Sundays
By Appointments
Mondays Closed
Event Planner
Wedding Planner
Dj with Lights
Caterer with Servers
Decorations
Catering on Catering would like to thank you in advance for taking
an opportunity to view our services and for any consideration given
to allow us to meet your catering need(s).
We are continually upgrading our services.
We are certified and insured to ensure quailty service.
We compose and provide menu recommendations,
a proposed budget with a itemized list of food
and supplies per a written proposal.
We prepare food, trays, salads, some desserts, punch, etc.
Setup and monitor food per chafing dishes, cookware and
utensils with table dressing.
We have a staff that will serve you and your guests & clean up.
We decorate, which includes center pieces, candles,
table clothes and skirting.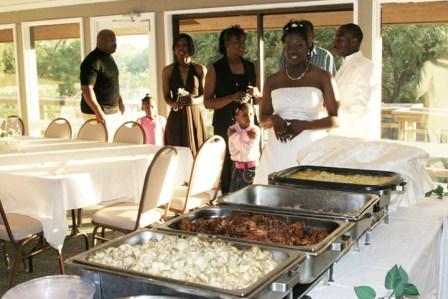 Arrange/Setup/Clean-up
Table Dressing: Head Table, Special Guests
Guest book, Family, Gift, Cake, Punch, Others
Long or Round Table clothes, Skirting, Center pieces


Real

or
Plastic


Silverware, Napkins & Glasses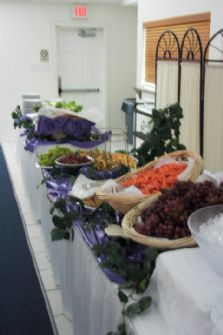 WEDDING

REHEARSAL

DINNER
Timeline (3) Hours Up to 20 Guests
Cook,Monitor, Prepare trays
Provide Table dressing:

real

or
plastic
Skirting, Table clothes, Center Pieces
Buffet, Dinner or Finger Foods available
Chafer dishes, presentation
Just for you, your love one & Special Guest(s)
We will come to your home!
Timeline (3) Hours
Shop,Cook, Serve & Cleanup
Presentation: Dinner Table Setting for 2-6 or More
Birthdays, Anniversaries, Just-because, Retirement, Other
Other Events
Engagement Parties
Bridal Showers
Bachelor Evening with the Boys
Anniversaries
Baby Showers
Back-yard Cookouts
Banquets
Birthday Parties
Business Meetings
Conferences
Debutante Ball
Fashion Shows
Luncheons
Graduations
Holidays
Marriage Retreat
Men Fellowship
Picnics
Prayer Breakfast
Promotions
Quinceanera
Reception
Recitals
Retirement
Reunions (Family & Class)
Seminars
Trainings
Vow Renewal
Women Fellowship
Workshops
Others
Make Your Own meal!
Some of our MEATS
Fried, Roter/Baked, Barbeque, Smothered Chicken
Brisket, Salmon, Glazed Ham, Grilled Chicken Breasts, Roast beef,
Fried Catfish, Links, Hot Dogs, Hamburgers, Turkey Burgers,
Smoked or Baked Turkey, Meatloaf, Sweetish Meatballs, Hot Wings, Chicken Fingers,
Smothered Meatballs, Links, Jumbo Fried Shrimp, Others
STARCHES
Chicken/Tuna Salad, Fettuccine
Spaghetti (red-pepper) Sausage or Beef Dish
Spaghetti with Meat Sauce (Beef)
Chili (Red) beans & Rice, White butter beans, English peas
Black or Green beans, Barbecue-baked beans, Corn, Mixed Vegetables
Mash potatoes & Gravy, Seasoned Roasted Potato,
White, WIld Rice, Seasoned Rice, Yams,
Broccoli, Cheese Rice Casserole, Cornbread dressing
French Fries, Onion Rings, Potato Tots
BREADS
Garlic bread, Corn bread muffins
Crescent rolls, Dinner rolls
Texas French toast
SALADS
Caesar or Garden Toss Salads with Croutons
Ranch, Italian or Caesar Dressing, & Parmesan Cheese
Pasta or Macaroni Salads
Potato Salad

Spinach-Cheese Dip with Tortilla Chips
Louisiana Style Tuna Salad
Assorted Crackers
DESSERTS
Lemon, Chocolate Pound Cakes
Cheese Cake
Peach Cobbler
BEVERAGES
Water, Ice Tea, Punch


Sugar Free Drink
FINGER
FOOD TRAYS
Block Cheeses Display ( Pepperjack, Cheddar, Moz..)
Delvied Eggs
Cold Shrimp with Cocktail Sauce
Smoothered Meatballs, Barbecue Chicken Drummetts
Sourdough Rolls with Butter or Oil
Salsa with Tortilla Chips
Mints, Nuts, Cold or Hot Sandwiches, Croissants,
Variety of Chips, Soup & sSalad
Fresh

Fruits

&

Vegetables
Red & Green grapes, Strawberries, Others
Celery & Carrots with Ranch Dressing
Station
Roast beef, Glazed Ham,
MEXICAN FIESTA
Guacamole with Tortilla Chips
Onion Dip with Potato Chips
Crab Dip, Cheese & a Variety of Crackers
Nachos
Spanish Rice, Refried Beans
Beef & Chicken Burritos
Quesa Dip (Beef, Sausage or Chicken)
Tacos (Beef or Chicken) Soft or Hard
Beef or Chicken Quesadillas
BREAKFAST
Continental
Style
Cold- Cereal (Boxes-Variety) & Milk
Donuts, Bagels, Muffins, Croissants,Fruits
Coffee, Hot Chocolate, Milk, Water
Variety of

Juices
Apple, Orange, Cranberry, Grape
Full
Breakfast
Pan Sausage (patties or links), Bacon, Ham
Smoke Sausage, County-fried Steak
Eggs, Grits, Hash-browns, Toast, Biscuits
Hot Pancakes & Waffles
Jelly, Syrup, Butter, Salt & Pepper
Shanetta & Courtney
STANDARD PRICES


Dinner, Lunch, Breakfast or Finger food
Zero Tax Non-profit Organizations
Finger food & Trays are calculated differently
All menu's are negotiable!


Salads, Desserts, Beverages (Add-ons)
Utensils & Decorations
*Additional Cost*
Additional Services Available
Taste Testing available for all Dinners